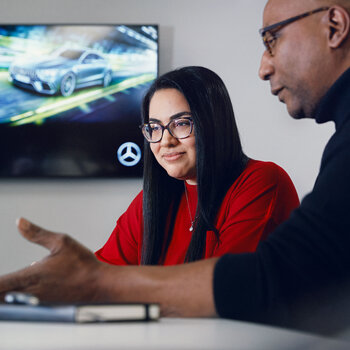 IT
IT - WE DRIVE DIGITALIZATION
TO THE NEXT LEVEL
The IT organization at Mercedes-AMG covers an amazingly broad spectrum of areas when it comes to content and technology. We come to the table with a straightforward goal of equipping the Mercedes-AMG team with the best software products, solutions, and a powerful technical infrastructure for developing and producing our vehicles.
We are the ones who drive digital transformation and technology at Mercedes-AMG, and our responsibility spans a vast number of areas:
Software development and platforms
Cloud applications and FOSS
Data science
ML and AI
Security and data protection
SAP ERP and production control
Measurement technology and CarIT
Optimization and ongoing digitalization of our business processes
Our heart beats for technology, and it's passion that empowers us to shape the future digital solutions of Mercedes-AMG. No matter what the topic, in IT something new comes up all the time.
Standing shoulder to shoulder with a powerful team, you will work directly on the front line. In addition to coming up with new solutions for our business units, you will join in – first hand – on the development of our fascinating vehicles. That makes this job incredibly challenging and, at the same time, unbelievably exciting.