Questions & Getting in Touch
We can always provide you
with an answer
There are always hoops to jump through when you're applying for a job. It's the same for all applicants, whether you're just embarking on a career or you already have experience in business. To make things easier for you, we've pulled together a list of FAQs. If you get stuck, feel free to drop us an email and fire a question at Annika via career@mercedes-amg.com.
Starting a job and feeling good – You ask the question, we have the answer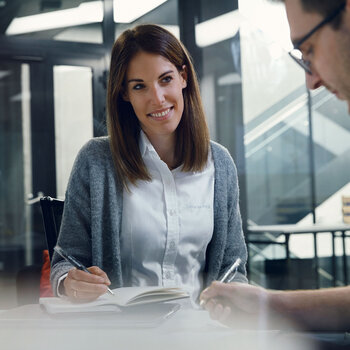 There are some questions raised during every application process. We have compiled a list of the most important ones in our FAQs. Feel free to scroll through them. Maybe you'll find the answer to one of your questions.
How do job interviews work?
Most interviews are conducted online. Some business units may also invite you to an interview on campus in Affalterbach.
I was turned down for the position. Is it possible to ask for feedback on your decision?
If you had an interview with us, you will get personal feedback from the responsible HR manager or the business unit.
If you did not receive an invitation to take part in an interview, unfortunately it will not be possible to give you any feedback due to the large number of applications. Please do not take a negative decision personally. It is always based on the need to fill a specific position and should never discourage you from applying to us again!
How far in advance should I apply for an internship?
As a rule, you will find internship positions in our job offers between three and six months before the fixed starting date. That said, vacancies may occasionally arise at short notice, which we then fill within a few weeks.
Is it possible to write my college thesis with you?
Yes, this is possible in principle – but only if we have a vacancy to do so and it is advertised. Unfortunately, it is not possible to switch from another student position (e.g. an internship) and write a thesis.
What is the dress code for interviews and assessment days?
Generally speaking we ask you to wear what you feel comfortable in! We tend to dress quite casually and often we just wear a sweater or polo shirt with jeans. If you turn up in a suit and tie or a skirt suit and high heels, you might look out of place.
Does Mercedes-AMG allow people to work remotely?
As a rule, yes. We actively encourage and enable people to work remotely. How this affects your day-to-day work depends on your specific tasks. You're welcome to discuss exactly where and how you will work with your business unit at a later point in the application process.
Are people on first-name terms at Mercedes-AMG?
We strongly believe in teams, so calling people by their first name is part of our culture at Mercedes-AMG. If we already call you by your first name during the selection process, don't be surprised. You can do the same to us – it's entirely natural here. If you feel more comfortable with Mr., Ms., or Mx., just give us a quick reminder.
Are the jobs shown on the website always up to date?
We update our job vacancies daily. So all positions shown on the careers page are indeed still open to applications.
When do job vacancies normally need to be filled by?
The posted vacancies need to be filled as soon as possible, depending on notice periods. If it's a student position, the specific starting date will normally be mentioned in the job description.
Can I submit an unsolicited application?
No, unfortunately we do not offer this option. For data protection reasons, we are not able to archive application details for an extended period of time so we can contact you if a suitable position becomes available. You will find all current openings under the job vacancies section.
If you are currently unable to find a suitable job opening, you can set up job notifications under your personal profile in the job search function. You will then regularly receive information on new career opportunities.
How can I apply for a job?
You can find our vacancies at jobs.mercedes-amg.com. You will need to set up an application profile and can then apply for specific openings via your account. Our system is set up to transfer information from LinkedIn profiles, so filling in our application forms only takes around 10 minutes.
Can I also apply the traditional way and write a letter?
Our application process is based on digital technology. We therefore kindly ask you to only submit applications online by using our application form.
Which documents should I upload with my application?
All applications start with a personal profile, which you set up yourself. If you already have a profile, you can of course update it at any time.
If you want to make things easier for yourself, you can also set up your profile to automatically enter information from your LinkedIn profile – but you don't have to if you don't want to. To submit an application you can then upload your resume, a cover letter (not for applicants with previous experience, only for students), and any certificates as DOCX files, PDF files, image files, or text files. The maximum file size is 10 MB.
Who should I submit my application to?
If you are applying as a manager or have working experience, there is no need to submit a cover letter.
If you're a student, your cover letter is an opportunity to tell us how well you'll fit into the team and why you're interested in working for Mercedes-AMG. Your application will normally be read by several people. It therefore makes sense to keep your cover letter general (e.g. Dear Mercedes-AMG Team).
What things do I need to think about for my application?
It's really important to us that you're true to yourself. If you're an applicant with previous experience, we will ask specific questions and you should answer them as openly and honestly as possible.
Your resume should be as concise and to the point as possible and highlight the experience you have already gained.
Who can I contact if I need help filling in my application form?
Our applicant management team will be happy to assist you with any questions you may have. Simply write an email to career@mercedes-amg.com.
How can I check the current status of my application?
You can log into your profile at any time and track the status of your application by clicking on Job Appliedà Job Applications.
Can I add/correct/replace documents after submitting my application?
You can log into your candidate profile at any time and update/edit information and documents manually by going to Job Administration → Job Applications.
When will I hear back from you about my application?
Once we've received your application, you will receive automatic confirmation via email. If you do not receive a notification within 24 hours, please contact our applicant management team by writing an email to career@mercedes-amg.com.
We make every effort to get back to you about your application as quickly as possible. Exactly how long this takes varies, depending on the vacancy and the number of applications received. We invest time in thoroughly reviewing each and every application.
Questions about your application?
Didn't find the answer you were looking for? Or do you need to ask us something else?
Annika will be happy to answer any questions you may have about your application. Simply drop her an email at career@mercedes-amg.com.
Send email