Vision & E PERFORMANCE
Our future
performance
You don't hear people saying "If only..." here. We just get on with things. And we always go one step further. To become even more customer-focused, sustainable, agile, and digital. Surprising others and sometimes even ourselves. Because what's special today might be completely different tomorrow.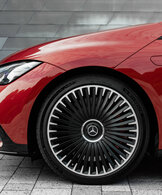 On the mission to our vision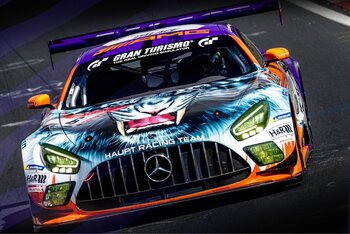 Thinking beyond the status quo. Developing and deploying new technology. And always pushing to go further – not just the technology, but also ourselves. Because we believe in the future of our brand. Which is why we invest in change. And accept every challenge. Can parts used in Formula 1 racing be made suitable for regular cars? Without compromise when it comes to power or character? We make sure they can – and this is what shapes the future of AMG.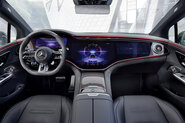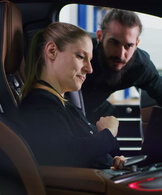 Nobody can tell you what will happen in the future. But we do know how we want to shape our own future. Because we still have so much to do. Not only is this an unimaginable opportunity when it comes to developing car performance. On our journey, we will also always have people along working in areas like UX design or programming. No matter what the future brings. We're ready. How about you?
AMG is going digital!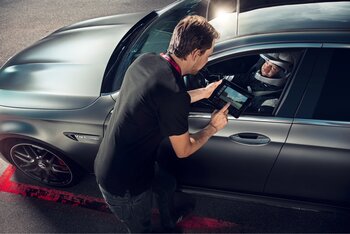 Introducing more digitech is not enough for us. We want to go further. Why do we say that? Because we're developing a digital ecosystem. With the aim of systematically extending our vehicles into the virtual space. Our challenge: To give drivers the opportunity to experience driving even more intensively. Like with our AMG TRACK PACE app. Born on the race track, this app brings the experience of true performance to life so it can be felt immediately.
Pure sound – made by AMG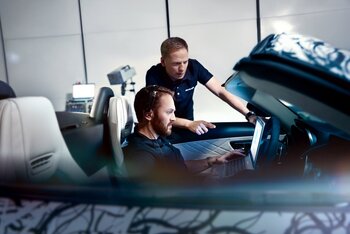 Our vehicles are pure emotion. Especially with that distinctive AMG sound. So what will happen when our cars become even more electric in the future? Well, we've already been doing a lot behind the scenes in sound development. One example is the AMG Sound Experience – the detailed dovetailing of sound, ambient light, and vibration to create an entirely different kind of sound experience, even for electric vehicles. Carrying the sheer emotion of AMG into the future is a top priority for us. What does an AMG car sound like with an electric motor? How about hybrids? What will acceleration sound like in the future? We want to find answers to all these questions. Which is why we work with sound engineers and even game developers. So AMG of the future still sounds like AMG today.
High-performance technology for every day
How do you develop a Formula 1 engine so that it can be driven in a regular car? Without losing its defining characteristics? Yet still lowering emissions? This is the challenge we're taking on with Mercedes-AMG Project ONE. Our aim: to make extremely powerful technology a tangible part of everyday life. In a way that merges our motorsport heritage with our concept of the future. Are you ready to join us on this journey?