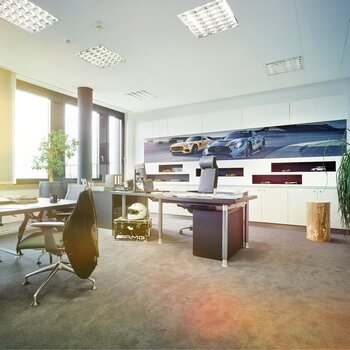 Finance & Controlling
We always keep an
eye on the numbers
Profitability is one of the most important cornerstones of a brand – especially if it's a global brand. In Finance & Controlling, we keep a close eye on the profitability of Mercedes-AMG.
When you work in this area, you share a responsibility for the financial standing and global performance of our brand.
Your scope of responsibility extends from classic balance sheets and bookkeeping systems to product costings and all aspects of corporate governance. The other topics you'll encounter in your everyday work include accounting, taxes, customs, and export controls.
The main topics we deal with are:
Product costings/financial performance of vehicles and drivetrain systems
Sales control and AMG product pricing
Profitability and business unit control
Financial control of cross-functional competence teams
Cost engineering
Accounting and financial reporting
Taxes, customs, and export control
Looking for plenty of variety in your work? Interest in supporting a highly motivated team managing the full scope of financial issues affecting a global brand? Then we'd like to get to know you.