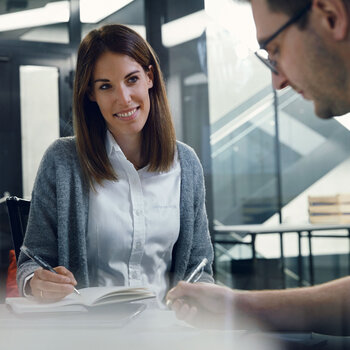 HR
Everything revolves
around people
Highly motivated, passionate about what we do, and ambitious. It's our people who make our company what it is: an international brand on the highest level. They also make Mercedes-AMG the out-and-out leader in high-performance vehicles and sports cars. Our job in HR is to ensure our team remains as strong in the future as it is now.
Everything revolves around our people. Which is something you notice quickly when you work for us. Not only are we always on the lookout for good people to join the new Mercedes-AMG team, we also make sure we look after the members of our current team. Mercedes-AMG affords us the freedom we need and the personal responsibility it takes to do this.
The fast pace at Mercedes-AMG is something you sense in HR every day. There's always something different that needs doing. So there's a massive amount of job variety. You'll be asked to take care of much more than the traditional HR topics, such as recruitment, supporting colleagues, or legal issues. With us, you're also responsible for finding people who make things happen – people with all the hallmarks of the AMG DNA. And you also take care of the professional development of your colleagues. Working closely with the business units, you'll put together personal development plans that are precisely tailored to the needs of each employee.
Our aim is to ensure we bring the right people on board. And get the best out of them. This is what continuously spurs us to give our best. Would you also like to help us find the people that will shape the future?