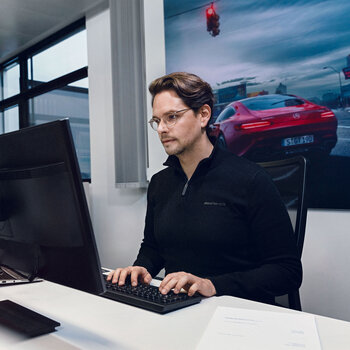 Legal
Always on the safe side
when it comes to legal issues
Whether it's one of many legal issues or drafting a wide variety of contracts, in Legal we're responsible for all matters of a statutory nature affecting Mercedes-AMG. That said, our work can also have an immediate impact on vehicles – like drafting or checking research contracts. So we also have a direct influence on keeping up the momentum of projects in the business units.
We're the first port of call when it comes to the following topics:
Drafting and reviewing contracts in areas such as development, procurement, or partnerships
Contract negotiations
Judicial and official proceedings
Legal issues affecting sales and marketing
Product safety
Legal issues affecting internal processes
Legal advice to management and the business units
In our team, no two days are the same. An enormous range of topics awaits us practically every day, involving lots of new tasks and issues that need looking into. So we have to be able to work our way into each challenging topic quickly. Which is why we try to think outside the box and consider the business, technical, and strategic context of our work.
This means high performance is also important for us. And it's something we expect from every team member. Every day. On every project. This makes us more than attorneys or corporate lawyers. It makes us a team central to driving performance.