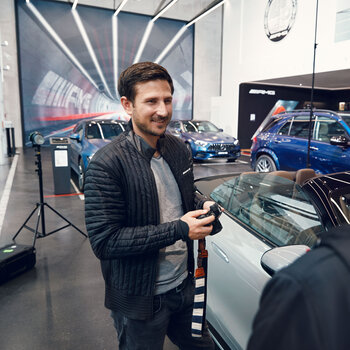 Marketing & Sales
We're making a strong
brand even stronger!
We already know what high performance is about. We just want to aim even higher. We want to become the performance luxury brand of the 21st century. And we want to go even further in opening our doors – and thus our brand – to the future of electric engines.
Our goals are ambitious. We want to become the sports car brand for both high-performance combustion and high-performance battery electric vehicles. We want to steer AMG so that it focuses even more on fueling a hunger for more . Based on a customer journey without parallel, whether it's in a digital format or face to face, involving fascinating products, unique contacts, and a retail network that inspires current and future customers, time and again. It's something we drive forward every day – as the fastest family in the world.

It's something we work on every day. Dynamically. Pragmatically. Without making things complicated.
We're all united by the same question: Who says it can't be done? We want to make a difference and to do so, we will go to any length – together, as always. And maybe, in the future, with you?