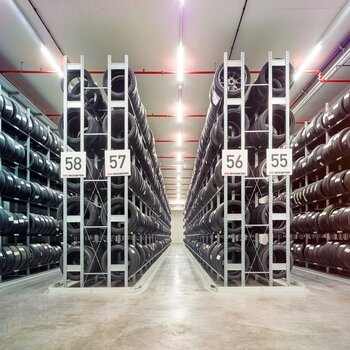 Logistics
Logistics at Mercedes-AMG
– every wheel
neatly interlocks
Logistics at Mercedes-AMG reflects the perfect dovetailing of an eye for detail, flexibility, precise planning, and teamwork. Everyone pulls in the same direction. Because behind every one of our powerful vehicles lies an equally powerful logistics system. Here, the people responsible for managing the logistics, warehousing, and transportation systems behind each series ensure every cog interlocks perfectly.
In Vehicle Projects - Logistics, we're a communication channel and link in the chain between vehicle and engine projects on the one hand, and the individual logistics business units on the other. This is where all key issues are managed to ensure areas such as engine production receive the necessary supplies of components.
Our responsibilities in warehouse and transport management cover:
Operational warehouse logistics, on-site
Supplies to engine production and the development workshops
Coordination of external logistics
Shipping logistics and customs
Empties management
Logistics planning
Triebstrang Logistik Serie
Program planning for Manufaktur Management Motor AMG
Capacity and tool deadline management for engines
Determination of vehicle requirements from the sales area, particularly for special equipment and models
Procurement of engine components, serial parts for the development workshops, components for the media and trade shows, GT3 and GT4, collection goods, spare parts
Wheel and tire management
The job we do is challenging and exciting – and always good for a surprise or two. In addition to everyday logistical challenges, we also have to keep a close eye on emerging technology and IT tools that might enable us to be even more accurate in our work.

Is detailed planning one of your strengths? If it is, there is an opportunity for you to help us coordinate the entire logistics process and keep everything running smoothly – from production to sales.