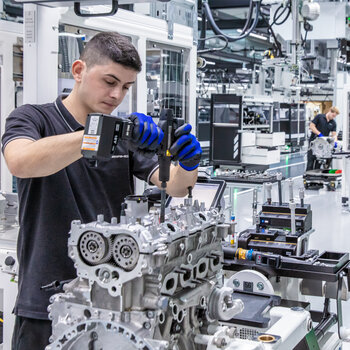 Production
Production – up close
and personal with
dream cars
The powertrain system lies at the heart of every AMG vehicle. Which is why things get really exciting when it comes to production. In Production, we work close up on real dream cars every day. We're responsible for all aspects of assembly on AMG combustion engines. And every day we face the challenge of fitting the required number of engines – on time and in accordance with the strictest quality standards.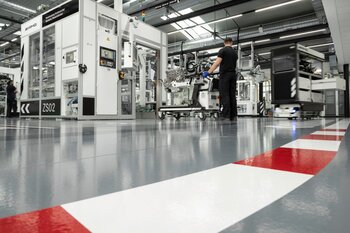 The average day is fast-paced, challenging, and dictated by exceptional quality standards. Producing and installing drivechain systems is complex. Not only does it require a wealth of knowledge, but also a strong sense of responsibility, team spirit, and a high degree of self-motivation. In specific terms, this means we trust you from day one and allow you to work independently. And that each employee is responsible for one drive. This is an opportunity for you to get directly involved, right from the start. But you can always count on the full support of the team.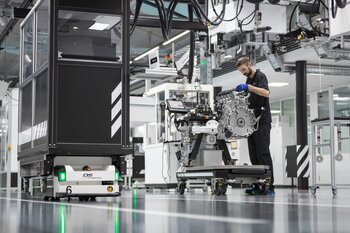 Being responsible for the complex assembly of a complete unit is fascinating. And something we spare no effort in, every day. We also motivate others to achieve peak performance. As you'll notice by the vehicle that rolls off the production line.
If this is something you'd like to part of, we'd really like to meet you! Maybe the next AMG drivechain system will bear your signature.