Family benefits
The right job for you –
and your family
For us, reconciling the challenges of running a family and pursuing a career is not just about flexible working arrangements. We go the extra mile and ensure that for AMG, not only are your personal needs the top priority, but so too are the needs of your family. To do this, we offer a variety of childcare options, from school vacation programs to places in a childcare facility.
Childcare options
The certainty and freedom you need to plan properly
We make it easier for you to plan your days and weeks with certainty. For you, this offers the best possible opportunity to strike a happy medium between family life and your time at the company. For us, this also entails taking good care of your children. The childcare center in nearby Affalterbach comprises two facilities, with places reserved exclusively for Mercedes-AMG staff to make it easier for you to find daycare for your little ones.
The parent-child office
Even more flexibility at work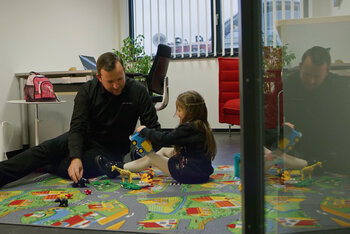 Juggling children and a career can be extremely challenging. With us, you're not forced to make an either/or decision. In addition to offering you flexible working hours or the option to work from home, under certain circumstances you may also bring your child to the office. Our parent-child office is more than a workplace. To ensure your child feels comfortable in the office with you, we offer plenty of things to do and infant changing facilities.
School vacation program
Also well looked after during the vacations
It can be particularly challenging for working parents ensuring their children are looked after during school vacations. Our Mercedes-AMG school vacation programs (such as the soccer camp) offer ideal supervision during vacations and are tailored to children of all ages. We also have a partnership agreement with the family website Voiio – a useful option when it comes to different online activities such as reading, day trip recommendations, or family yoga sessions.
Job sharing
One job, two people
Wish you had more time with your family – and want to reconcile personal priorities with your career? Entirely possible with the right job-sharing arrangements. As a manager, at AMG you're given the opportunity to share your job with a colleague. Together, you decide who is responsible for which tasks – so you can divide up the role between you.